Signing for Professionals
Continuing Professional Development (CPD)
We work with education authorities, organizations and individual early years practitioners and teachers embedding the Signs for Success philosophy, methodology and practice in kindergartens, schools and homes.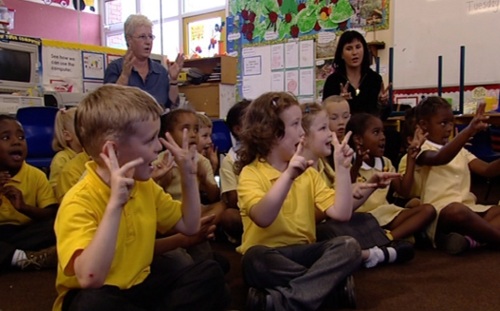 Signs for Success is an essential part of the early years curriculum bringing depth and meaning to every day activities and practice with greater results than expected for all concerned. See all our programmes with supportive evidence.
Our programmes inspire, excite and transform every day practice. We are a fully inclusive methodology which complements and brings value to established programmes such as the government's "Letters and Sounds" initiative.
Our accredited course "Signing to advance Speech, Language and Communication" provides early years practitioners and teachers with a specialism and expertise that can be used in any subject, activity, instruction or situation. It can even lead to a new career!
Signs for Success can tailor programmes to meet your specific needs and offers bulk purchases. Please contact us!
Signs for Success benefits:
Children with English an additional language (EAL)
Children with additional or special needs
Children in the early stages of language and literacy development
Milkshake Montessori Nursery - Geraldine Hill
An evaluation of the Sign for Success programme has confirmed its benefits to early childhood development. Children at Milkshake Montessori are more self-confident, self-disciplined & energised in their learning. Furthermore, the programme works in harmony with the Montessori ethos of education.
Read more in the reviews section of the evidence page.