Signing for Parents
Parents come to our programmes because they want to learn how to communicate with their baby at an early age, support their child's spoken language development and early literacy skills and learn positive behavior management techniques. Signing helps them to do so in a relaxed yet focused way.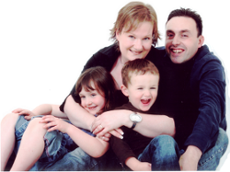 On our simple step-by-step programmes, we teach families how to use signs alongside speech in normal every-day activities to promote learning. Children need Words to communicate needs and feelings. Words to learn about the world and how it works. Words to imagine and question. Words to relieve frustration. In giving your child Words, you are teaching the fundamentals of Reading, Writing and Spelling. Words are really that powerful!
Many parents progress to our accredited course "Signing to advance Speech, Language and Communication" which can be a stepping stone to a new career.
Signing to Learn English will help:
strengthen the relationship between you and your child.
you to understand your child's needs and feelings.
your little one learn new Words simply and easily.
develop your child's Social, Emotional and Intellectual abilities.
Sandra's Story
Sandra Valmary is the mother of 12 month-old Celeste. She uses French and sign with Celeste and her husband Neil, English and sign. The signs are a bridge to both languages as they are consistently the same, providing a kinaesthetic clue to the meaning of spoken French and English.
Read more in the case studies section of the evidence pages.